Sports have multi-dimensional benefits, and equally has effect on both the young and old in any class and age. Its benefits can be assessed in areas of health, education, business, unity, togetherness, and it's a leveler of a sort.
These were the underlying philosophies that were in display when Ilorin Club hosted 1925 Ibadan Tennis Club on Saturday June 10th, 2023, as veterans from the two famous clubs used sports to promote these values and benefits.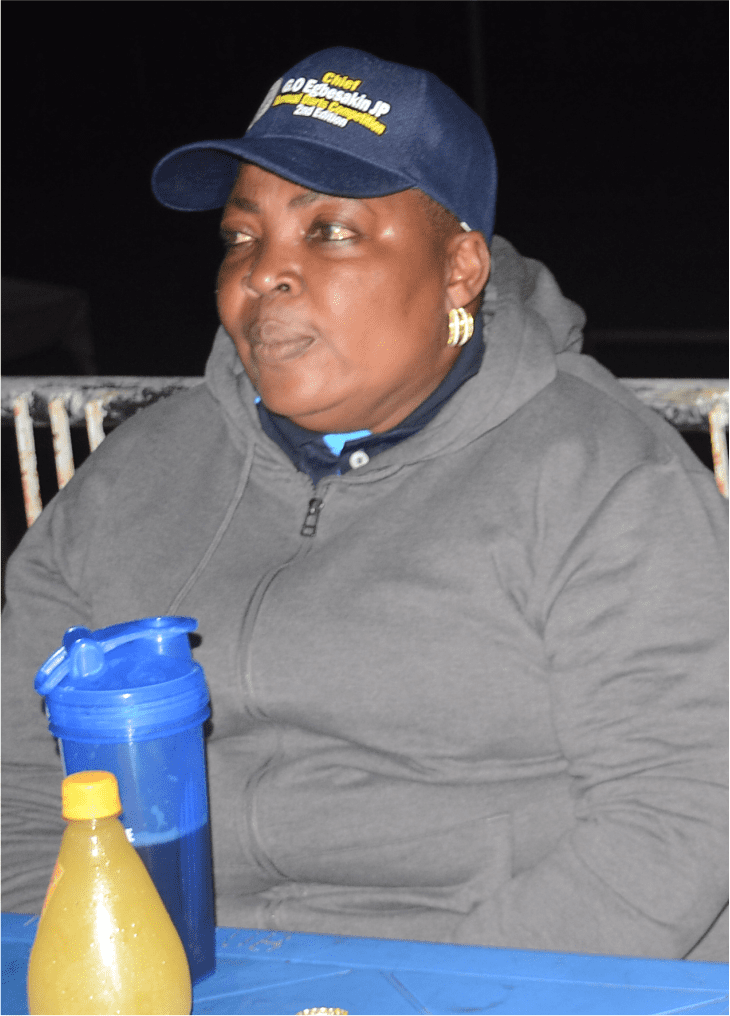 They competed in events like table tennis, dart, draft and tennis, and going by the assertions by the representatives of both clubs, they went beyond just sweating it out in the courts, and took the friendship to business levels.
The Social Secretary of 1925 Ibadan Tennis Club, Princess Abimbola Egbesakin Williams Jp, while reacting during the friendly games, described it as a wonderful experience rubbing shoulders with new and old friends, and also exploring other human development benefits from the gathering.
"It's a bonding that needs to be encouraged. I never expected that I will meet the lady I played with. It's a good learning curve.
Princess Egbesakin Williams played dart.
"It's about exercise, but beyond that, it's to promote healthy living; something to keep us fit at all times in facing other challenges of life.
"Equally, I met somebody today. He is into mining, and I have interest in doing business along that line. He will be a good guide for me in that direction. We also have family ties too, all tied to sports.
Princess Egbesakin also expressed delight in the gathering, which she said, afforded her members to experience change of environment. She commended Ilorin Club for their hospitality and maturity.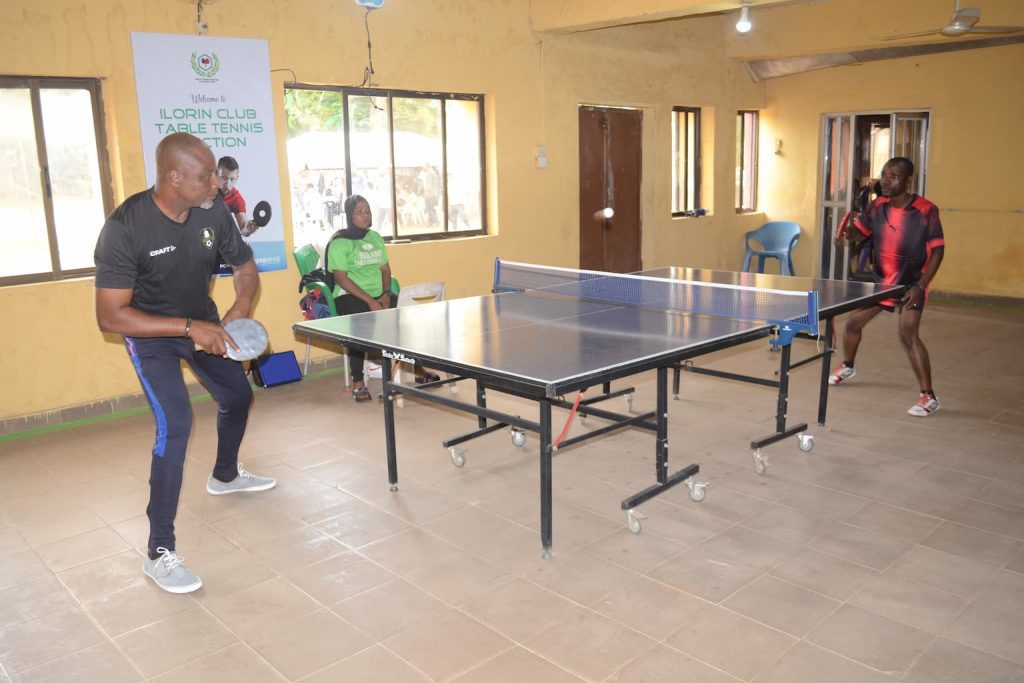 1925 Ibadan Tennis Club had been in existence before 1925. History has it that Ibadan Tennis Club existed as one of the first indigenous clubs in the South Western Nigeria, even before its 1925 founding date.
Just like the 1925 Ibadan Tennis Club, Ilorin Club is one of the clubs that is contributing to the development of sports at all levels in Kwara state, especially providing facilities and moral and financial support. Apart from serving as a good relaxation and leisure platform for the Veterans, it's also an avenue for the empowerment and sustenance of sports culture, as the Veterans play a father-figure roles for the young athletes.
The idea of social clubs became quite obvious in the Nigerian consciousness since independence.
One of the unique features of Ilorin Club is its location.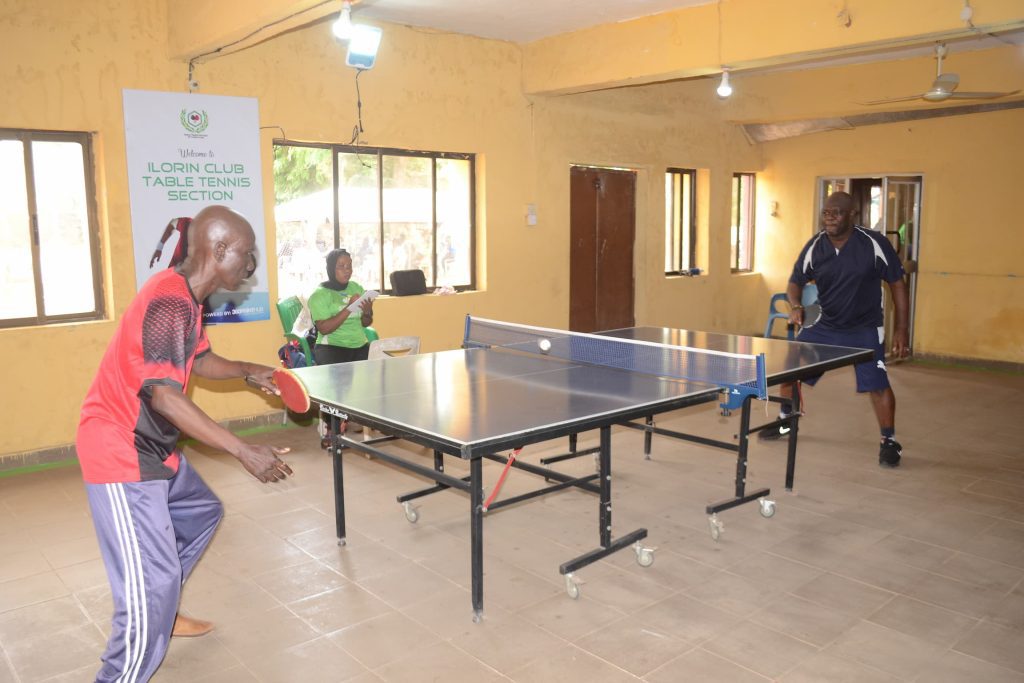 The current President of the Club, Tpl Baraje Abdulkadri Abiodun, while reacting said that Ilorin Club has continued to serve as an avenue for social networking for high flying celebrities in the society, with businessmen and women, sportsmen, civil and public servants as registered members.
He said that the friendly sports events was not about winning, but about establishing and promoting friendship and unity.
"It's to relax, enjoy ourselves and promote health. Sports itself is education of a sort. The experience and benefits are tremendous, and just like the Motto of the Club; "Work Hard and Relax Well".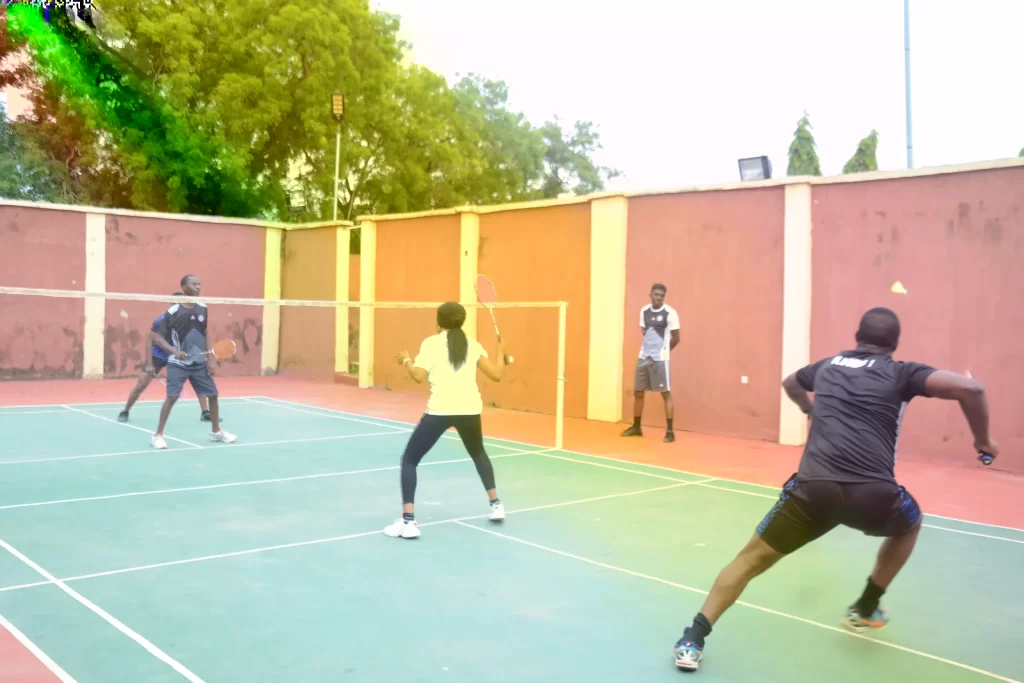 "For this gathering, we engaged in table tennis, badminton, darts and draft. I played table tennis and badminton. The Club also have facilities for other sports like snooker, draft, ayo… and all these are deliberately being encouraged to improve mental and physical fitness, and to relieve stress. It all has direct and indirect benefits.
After the one-day contests, the pair of Professor Titus Umaru and Dr. Olafimihan Kayode of 1925 Ibadan Tennis Club defeated the pair of Femi Yusuf and Kasali Tajudeen of Ilorin Club 8-6, in tennis
In draft, Olamilekan Dolapo Abodunde of 1925 Ibadan Tennis Club lost to Olamileka Azeez of the host club, while his colleague also defeated Segun Adebowale of Ibadan.
In dart, Mrs Williams Grace of Ilorin Club came first in 501 even, while Mrs Bolanle Dosunmu of 1925 Ibadan Club came second, Mrs. Grace also came first in TOB event against the same Biolamle Dosunmu, while the pair of Engr. Wole Oke and Mrs. Williams Grace of Ilorin Club came first in 501 Mixed Doubles. Mr. Taiwo Akinosho and Mrs Bolanle Dosunmu paired for Ibadan Club to come second.
Engr. Wole Oke came first in TDB Male event, followed by Mr Taiwo Akinosho, but won the 501 Male Singles event ahead of Alabi Amuda of Ilorin Club.
In table tennis, 1925 Ibadan dominated the event, as Chris Olusesi defeated his counterpart, Kolawole Adu 4-3 in the Male Singles event, while Kikelomo Falana defeated Mrs Bolanle Dosunmu by three straight sets, to win the Female Singles.