Who is Chief (Mrs) Abimbola Olaoye?
My name is Chief (Mrs.) Abimbola Olaoye. The Principal of Panada Junior Secondary School, in Oke-Oyi, Ilorin East Local Government Area of Kwara state. A prominent member of National Association of Women in Sports (NAWIS), and Sports Coordinator for All Nigeria Conference of Principals of Secondary Schools (ANCOPSS) in Kwara state. I am the Proprietress of Olaoye Abimbola Female Football Academy, based in Oke-Oyi, Ilorin East Local Government Area of Kwara state. I am a lover of sports, and passionate, especially, in the development of girl-child through sports.
How did you come into sports?
I came into sports fully from my Secondary School days. I was an athlete, and athletics then took me to Italy twice, where I represented Ondo state and my school, Anglican Grammar School, Iju, Ita Ogbolu in Ondo state.
Also, when I was at the Ahmadu Bello University, Zaria, Kaduna state, I engaged in sports, from there, I had the opportunity to participate in sporting events even beyond the school.
After graduation, I become a teacher. And from my Primary School where I started teaching, that's in Zaria, Kaduna state, I engaged the pupils in sporting activities every Wednesdays. I later transferred my services to Kwara state. I was transferred to Oke-Oyi LGEA Primary School, where I also had the opportunity to engage the pupils in sports. We organised inter-house sports competitions. From there, I was also transferred to Secondary School, Ansarul-Islam Secondary School, Oke-Oyi, where I was instrumental to the organization of the school's first inter-house sports competition.
I met the Principal then, Mrs. Abioye Abdullahi, and discussed the development with her. Our population then was not up to 30 students. She was skeptical….because of the population, and the fund to stage the event. But I encouraged her; we set up committees and started the planning. Thank God, at the end, it was a successful event. That was in 2009/2010 season. Many dignitaries graced the event, and some of our students got scholarships.
I was later transferred to Olokuta Secondary School, also in Ilorin East, where I also organized inter-house sports meet, but unfortunately, the Principal there did not give us enough encouragement.
From there, I sought for transfer to Apata Yakuba Junior Secondary School, where I also made tremendous impact in sports. Most of the time, I personally sponsor the students to invitational events and inter-house sports of other schools. I love sports, and I am very much interested in it. That was why I committed myself unto the cause.
These opportunities spurred me to move on in sports, with the hope that I would be using the platform to contribute my own little quota to the development of humanity.
From Apata Yakuba, I was transferred to Panada Junior Secondary School, where I am, presently. On getting there, I observed the enthusiasm in the students about sports. I took up the challenge, and brought both the Junior and Senior students together. We started gradually, and I later introduced the idea of staging an inter-house sports competition.
We got in touch with the parents through the Parents Teachers Association (PTA) platform, got the support of the community, Panada community and we started. There too, I most times sponsor the students, especially for external sports engagements.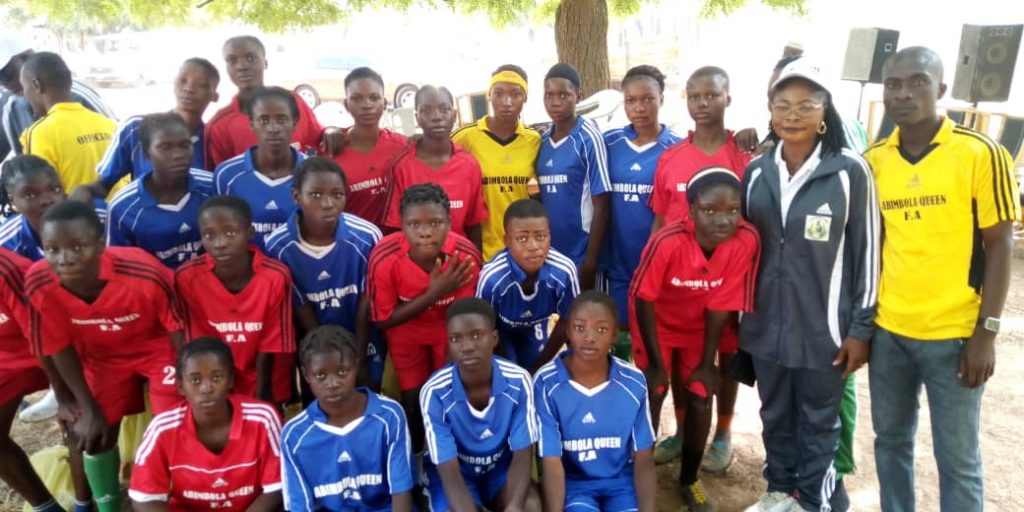 In 2015, we organized our own inter-house competition. We got the support of the Ministry of Education and Human Capital Development, Ministry of Sports and Youth Development, the Sports Council, SUBEB, and their top officials graced the occasion. After that competition, I decided to build on that success, by setting up my own Academy to encourage and empower the girl-child.
What really motivated you in setting up a Female Football Academy?
Just like I said, the enthusiasm in the students was key. And the desire to contribute my own quota to community development through sports is another. The students in both Oke-Oyi and Panada, especially the females, are very much interested in football. Anytime we have a break, you see them with football. They came to me sometimes ago that they needed my support to buy balls and other kits. From there, I started making consultations, which later resulted in the establishment of the Academy. I thank God that the Academy is moving on fine. They have played series of friendly matches and have participated in some competitions. We have registered the Academy with Kwara FA and the Ministry of Sports.
What is the importance of sports to education?
Sports and education are related. Sports and education complements each other. Sports have direct impact on maintaining the child's health and increasing their physical stamina. One of the most important things that are required in sports is the discipline. Educating students in sports increases the power of reasoning and develops mental growth through constant focus on the current set of activities.
Sporting activities at school level works towards the child's overall benefit. If there is some sports activity in students' daily activities then it would contribute toward his overall brain development and physical development.
How would you describe sports in Kwara state?
Sports development in Kwara state is excellent….in terms of the facilities, the enthusiasm, participation and government's support. The enthusiasm is high, and I must commend the Kwara state Governor, Mallam AbdulRahman AbdulRazaq, and his Deputy, Mr Kayode Alabi. They are both former athletes in the state, and so, they really know what we want in the sector, and that was why for instance, the government revived the State Sports Festival that was last held 15 years ago. I am a traveler, and I travel all around, and I know what obtains in other states. Kwara loves sports a lot. And that has added to my motivation and interest. The Ministry of Sports encouraged me, especially towards the establishing my Academy.
I must also commend the government for supporting sports development in schools. Government gave sporting equipment to 48 schools in the 16 Local Government Areas of the State few months ago. And that was the first batch. According to the government, more schools will be given same in the second and third batches before the year runs out. This gesture will encourage sports participation, especially from the grassroots. However, the problem we have now is, most schools, especially those in the town, don't have pitches and other facilities for sports. So, it is not easy to transport students to the stadium and other schools where the facilities are available.
And for the State Sports Festival, I never knew my contributions were being noticed. And that was why I was appointed member of Main Organizing Committee (MOC). I must commend the Ministry of Sports and Youth Development, as well as the Sports Council for the honour. The festival geared me up to put my resources into sports development, this is because, young and promising athletes, who are determined to make it in life through sports were discovered during the multi-sports event.
You are a prominent member of the National Association of Women in Sports (NAWIS). What are your efforts at bringing more girl-child into sports?
We are trying our best, and I will want to use this opportunity to seek more support for the association from the relevant stakeholders. We have about 50 members in the state, and I know we are more than that. I will want to appeal to others outside the circle to please come in, so that together, we assist the younger ones.
We are trying to use the platform to encourage more girl-child to come into sports. But for the Covid-19 pandemic, we had already chosen a date for a seminar. We are planning to mobilize our female students, stage a seminar for them by September, to encourage them to participate in sports.
I will want to commend our daddies, our husbands for supporting and encouraging us.
You are a member of ANCOPPS as a Principal. But why is it that the Principals are not always forthcoming when it comes to sports development in our schools?
Our principals need to support sports because of its importance to the development of the children. We need to bring ourselves together to find solutions to that. The problem I think may be because students no longer pay sports levy like we had before now. That has crippled sporting activities in schools. Again, we have to think of the facilities.
But now that I have been appointed as the State Sports Coordinator for ANCOPPS, we will see what we can do about it.
You are one of those that picked forms to contest the Kwara FA bye election. What's your interest?
My interest is to get to the board and protect the interest of the female football in the state and Nigeria. To encourage those who are investing in female football in the state, and in the nation. Female football needs urgent attention than what we currently have.
What's your relationship with other female teams in the state?
The relationship is very cordial. Kwara Ladies FC and Moje Queens….we are very friendly. My Academy has gone to Erin-Ile several times, and I have visited Kwara Ladies FC. We have played with Moje Queens more than once in Erin-Ile. We are also planning to play Kwara Ladies FC immediately ban is lifted on football activities.