The Chairman of Kwara United Football Club, Kumbi Titiloye has said that the team's victory over Nasarawa United, which takes the team out of the drop zone in Group A of the 2022/2023 Abridged League was a special gift to him by the players.
Kwara United on Sunday defeated their North Central counterparts by a lone goal at the Akure Township Stadium in the Matchday 17 of the Nigeria Premier Football League (NPFL), to end with 17 points, enough to guarantee their stay in the top flight.
The lone goal, which he classified as 'Golden Goal' was scored by Ibrahim Yahaya in the 82nd minute of the match which was full of intrigues.
While analyzing the encounter and the season generally, Titiloye said that the season has taught him a lot of things which should be better kept away from the public.
"To God be the glory, because, what we faced this season, I would never wished it for my enemy. And it has taught me a lot of things about life. But we thank God and take the positives from the whole scenario. It's not something for the public", he averred.
He said that the match against Nasarawa United was the longest 90 minutes he had witnessed so far, as every minute dictates different difficult moments, with both teams seeking a win for survival.
"When the match against Nasarawa United was going on, and the minutes tickling away, I just believed that at least, we will score a goal. The boys played the match for me, because of my relationship with them collectively and individually.
"They told me they were going to win the match for me. And this is in addition to the motivation to perform and most importantly, win the match.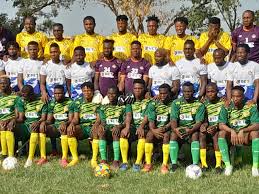 "I thank the state Governor, Mallam AbdulRahman AbdulRazaq, the Executive Chairman, State Sports Commission, Mallam Bola Mogaji, Chairman Kwara State Television Service Board, Mallam Hameed Adio, Retired Permanent Secretary, Shuaib Akanbi-Oke, Administrator of Kwara Football Academy, Mallam Ibrahim Bako, the CEO, Dickalo, Architect Olubunmi Komolafe, Engr. Olaide Ahmed, our Supporters and Fans Club, football stakeholders in the state and others.
"I equally thank the Kwara State Football Association, led by Mallam Idris Abdullahi Musa, the Sports Writers Association of Nigeria, Kwara state chapter and well wishers, for their efforts. I thank Kwara United management members, staffers and players for their sacrifice", he added.